Speed up WordPress website service – Who am I?
I'm Nguyen Duc Thai (Founder DigiWeb) – I have more than 15 years of experience in premium website design in Vietnam, SEO, Digital Marketing, Make money online (MMO), professional Youtuber.
1. Used to live & work in Japan for software companies
2. Used to hold the position of Digital Director of one of the biggest foreign branding & communication agency in Vietnam for 10 years.
3. Website development partner and Digital Marketing consultant for many big brands in Vietnam.
4. Content production partner for Youtube (Youtuber), Google Adsense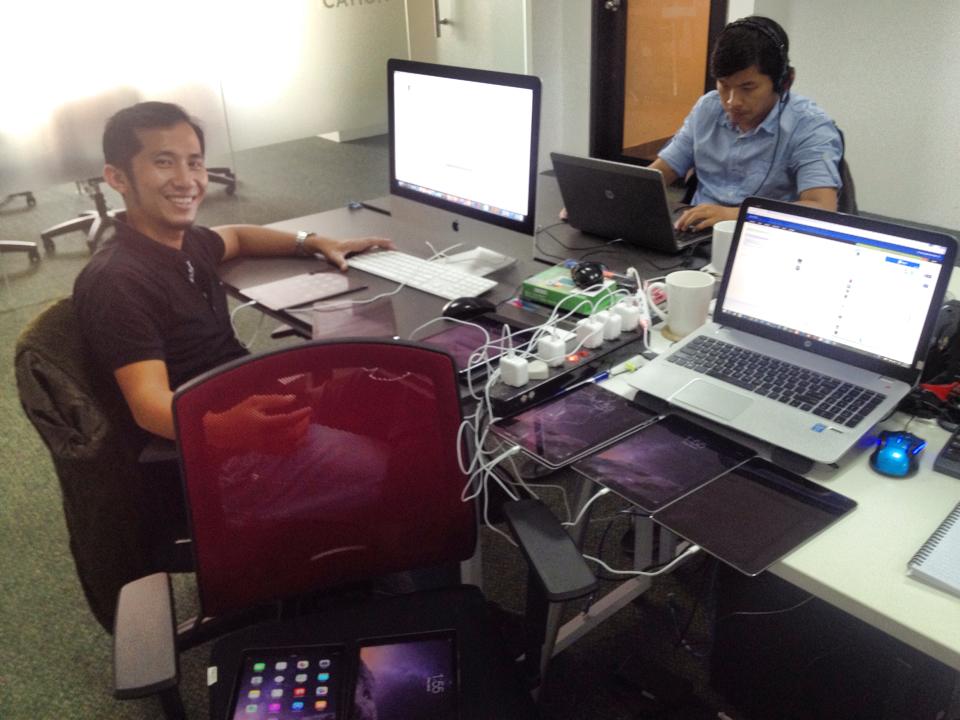 (Nguyen Duc Thai – Black T-Shirt)
2. What is a WordPress website?
Are you an individual or business owner owning a WordPress website?
Or do you not own a website but have heard a lot of the word "WordPress"?
DigiWeb will introduce to you what a WordPress Website is!
According to the original definition more than 20 years ago: WordPress is an open source for publishing personal websites (blogs) written in PHP programming language and MySQL database.
So what is Open Source? Open source is free software (e.g. WordPress) whose code is publicly available for anyone to download, use and edit freely. In addition, users can contribute more good features to the code to bring many benefits and useful functions to the community.
Thanks to the contribution and continuous improvement of talented programmers in the world over the past 20 years, WordPress has become an open source code used by many website developers around the world and in Vietnam to Website design for clients.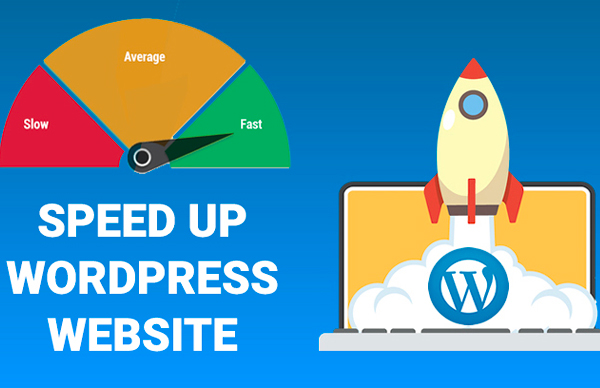 2. What are the reasons that make your WordPress website slow?
Not all programmers/website design companies use WordPress in a "professional" way to design websites for their clients. And not all clients know how to manage content well after the website is handed over. Programmers & customers are the 2 main reasons that often cause slow website errors 🙂
2.1 WordPress website running slow due to programmer
Using poor quality free themes/templates to design WordPress websites
Installing too many plugins to handle the functions on the website, installing more and more plugins will be heavier, prone to conflicts after the website operates for a while.
Do not fix Javascript errors before handing over the website (this error is only visible when using the "Inspect" tool on the browser)
Advice on choosing low-quality hosting, not for the right purpose (for example: Website works in Vietnam, viewers are in Vietnam but hosting is located in the US. Or choose to buy cheap hosting packages with weak RAM / CPU configuration. ). Many website programmers blame the slow website on hosting.
Using third-party programming libraries (JS, CSS) that are not reputable, after a while these libraries no longer exist, causing 404 errors for the website.
During the programming phase and inputting content for customers, the programmer did not optimize the image for the website.
Do not use Cache plugins to optimize WordPress website speed.


When right-clicking on the browser select "Inspect", the red errors will slow down the WordPress website
2.1 WordPress website running slow due to website administrator / website owner
The error that slows down users' WordPress websites is quite small, but not nonexistent. The biggest mistake that DigiWeb often sees is that customers upload images to the website with the wrong size & capacity.
Example: A banner image on a website only requires a maximum size of 1920 x 1080px, and the capacity is best under 500kb (~0.5M). But many customers can upload banners with the size & capacity 10 times, 20 times, 30 times higher than the above requirements. If using such images, the wordpress website will not run slow.
For DigiWeb, when handing over the website, we always clearly note the size and guide customers to use it correctly and effectively.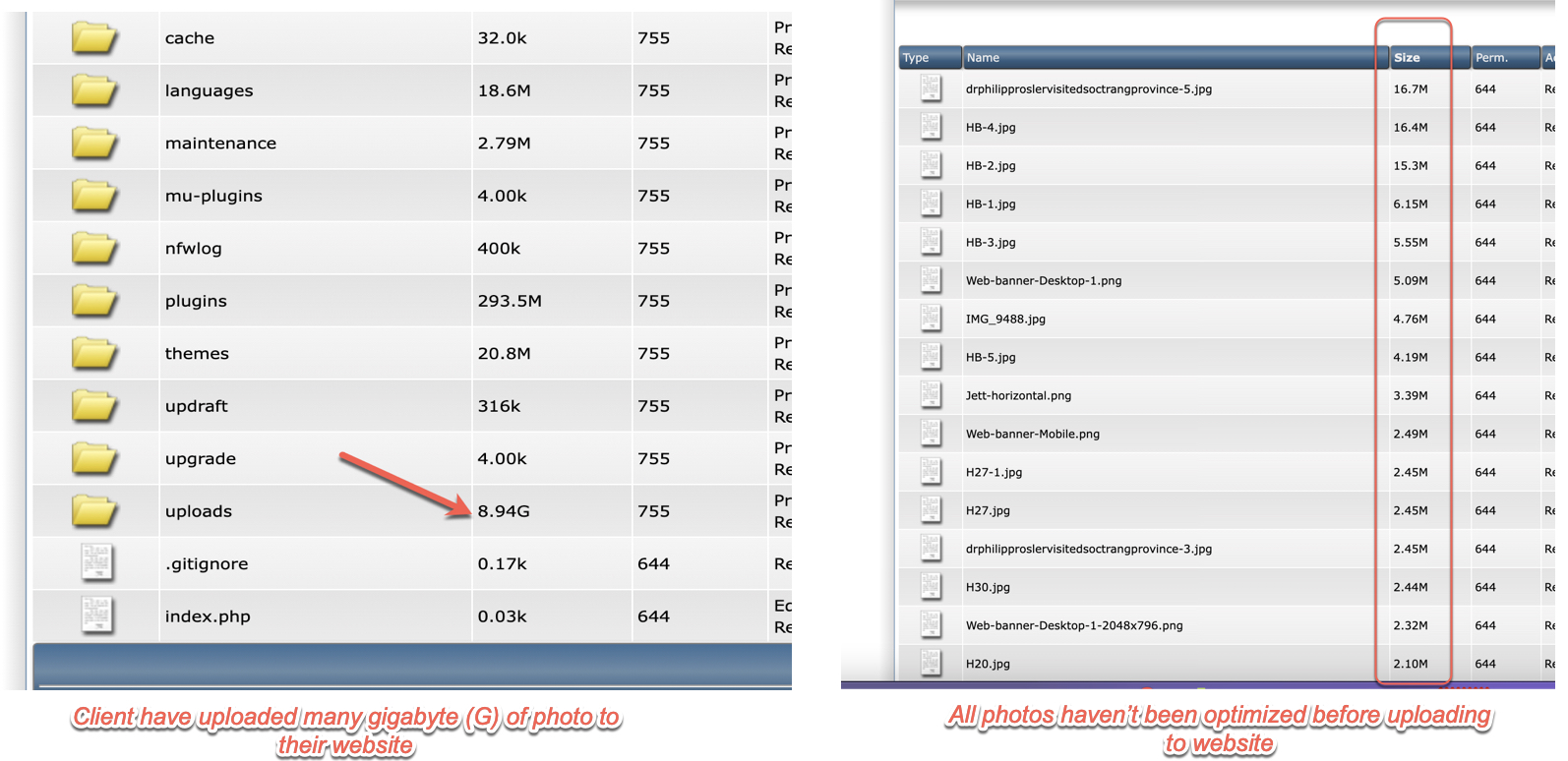 Users upload heavy images that have not been optimized for size & capacity to the WordPress website
3. Why should you choose DigiWeb to speed up your WordPress website?
According to Unbounce's Page Speed Report, nearly 70% of consumers say that website loading speed affects their willingness to shop online. That is, nearly 70% of viewers consider not buying online if they visit the website and have to wait for the page to load for too long.
Also according to this Unbounce report, most viewers leave the website when they have to wait for the website to load more than 4 seconds, and according to Google, viewers will leave the website when they have to wait for the page to load more than 3 seconds.
If you use a website with slow loading speed to run Google ads, Facebook ads…you are probably wasting a lot of money on clicks that leave visitors halfway through when the website loads more than 5 seconds, 10 seconds or so long than.
DigiWeb is profressional in consulting to design websites using WordPress, but we program it ourselves (code by hand) instead of installing themes and then editing them for customers. DigiWeb only uses the core of WordPress to build premium websites for customers. Check out more WordPress website projects we've implemented here!
Besides the new website design service, DigiWeb receives a lot of requests to speed up WordPress websites for customers (these websites are not developed by DigiWeb). With a deep understanding of WordPress and a team of good programmers, we confidently fix errors and optimize the speed of your WordPress website to 2, 3 times faster than when received.
In addition, if you do not have time to take care of your website, the IT team is not capable of fixing WordPress website errors, website downtime… DigiWeb has the WordPress website retainer service you need.
Please contact DigiWeb for advice on speeding up your wordpress website!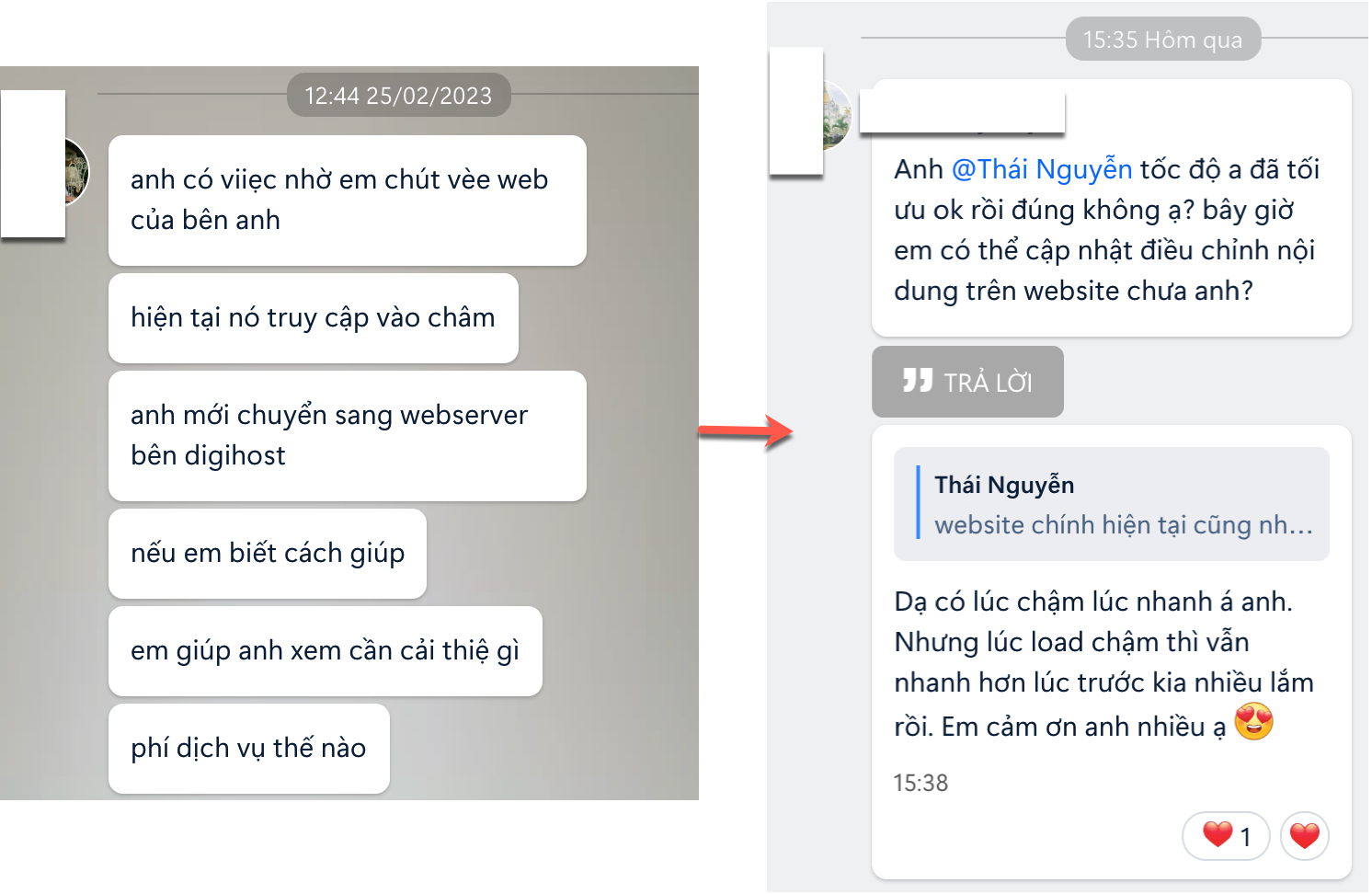 Depending on the status of each wordpress website upon receipt, the website after optimization will increase many times, helping customers to always be satisfied with DigiWeb's services.
4. Cost of speeding up wordpress website
Depending on the status and size of each WordPress website, the cost of speeding services also varies due to the time taken and the difficulty of the work. But the current cost DigiWeb is doing is as follows:
Cost: 2.000.000vnd – 5.000.000vnd / 1 website ($85 – $215)
Execution time.: 3 – 7 working days.
5. Results after speeding up wordpress website
Website wordpress after optimization will run many times faster than when received. This speed is measured by the user's perception when opening the website with an incognito browser (the browser does not cache). You can refer to the speed test video at the end of this article.
5. Working process & payment for the speed up wordpress website service
Step 1: Contact DigiWeb via (Phone/Zalo/Email) at below to register the speed up wordpress website service.
Step 2: The two parties agree on the costs and make contract (if necessary)
Step 3: DigiWeb receives information from customers (website administrator accounts, hosting) and conducts website speeding services.
Step 4: The customer pays 100% after the job is completed and accepted. DigiWeb will continue to accompany and support customers when needed.
6. Payment information
NGUYEN DUC THAI
STK: 0441003796246
BANK: Vietcombank (HCMC)
7. Direct Consulting for speeding up wordpress website
Phone / Zalo: 0902.604.802 (Mr. Thái)
Email: info@digiweb.com.vn