Best E-commerce website design – Who am I?
I'm Nguyen Duc Thai (Founder DigiWeb) – I have more than 15 years of experience in website design & programming consulting, SEO, Digital Marketing, Make money online (MMO), professional Youtuber.
1. Used to live & work in Japan for software companies
2. Used to hold the position of Digital Director of one of the biggest foreign branding & communication agency in Vietnam for 10 years.
3. Website development partner and Digital Marketing consultant for many big brands in Vietnam.
4. Content production partner for Youtube (Youtuber), Google Adsense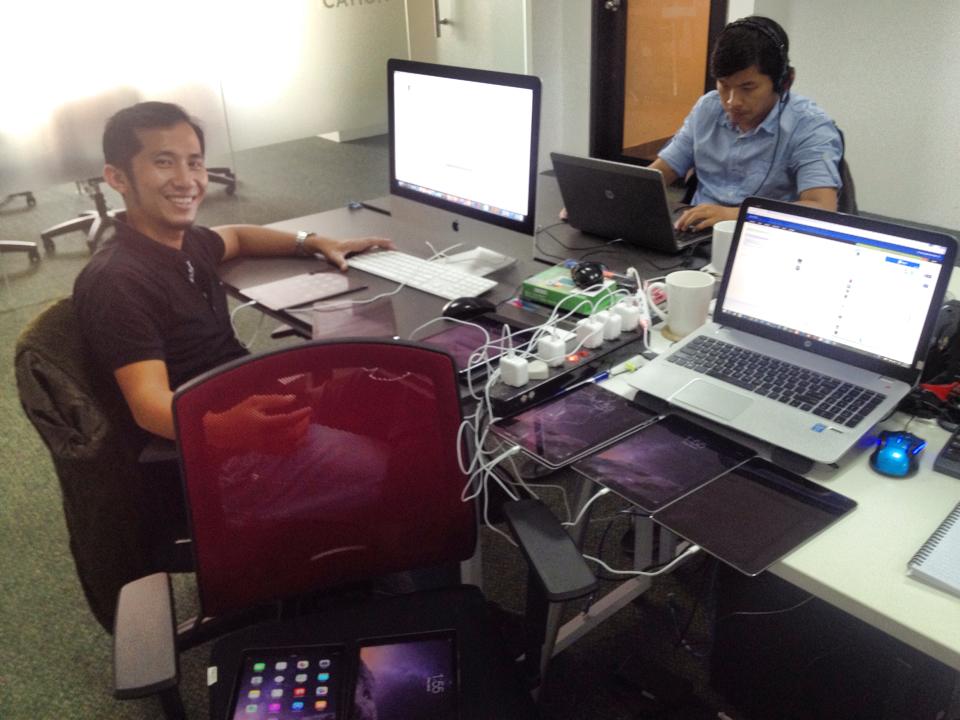 (Nguyen Duc Thai – Black T-Shirt)
The functions of an effective E-commerce website have been designed by DigiWeb.
The product "The Effective E-commerce website" has been designed and programmed by DigiWeb. This product has now been deployed effectively for many customers. Below is the function list of this product:
1. Create more parent categories (product types), child categories
2. Create a new product for each parent/child category
3. Easily customize multiple selling prices for a product & promotional prices
4. Create coupons (coupons)
5. Manage orders, update order status
6. Email notification to admin when order is created or status updated
7. Create news articles / Blogs / share product knowledge
8. Create information pages (introduction, services, buying instructions, payment methods, delivery…)
9. Manage website administrator account (admin)
10. Install the code to measure traffic, code to run ads
Note:
Website language: The demo site language is in Vietnamese but will be reinstalled according to the customer's language (English, Korean, Chinese, Japanese…).
If you need more advanced functions such as: pay online directly on the website (connect the payment gateway), connect the website with the shipping gateway to calculate the shipping cost, or connect the website to the management software. sales manager…DigiWeb can be further developed with additional costs.
3. Effective E-commerce website projects – Design & Built by DigiWeb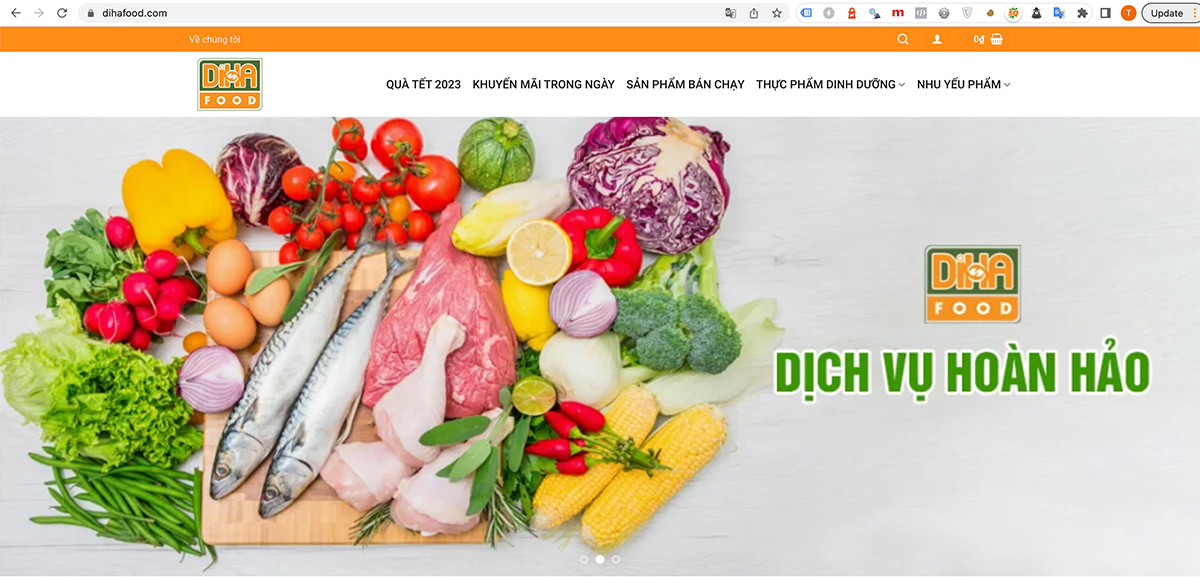 https://dihafood.com – E-commerce website with integrated payment gateway ViettelPay – Viettel Money. If you are in need of integrating any payment gateways in Vietnam such as Viettel Money, Zalo Pay, VNPay… for your e-commerce websites built by WordPress Woocommerce. Please contact DigiWeb for advice and development. DigiWeb's talented team of programmers can develop your own Plugin.
4. E-commerce website projects have been designed & built on client demands
4.1 E-commerce website design to sell wine online in Japan – Tarusky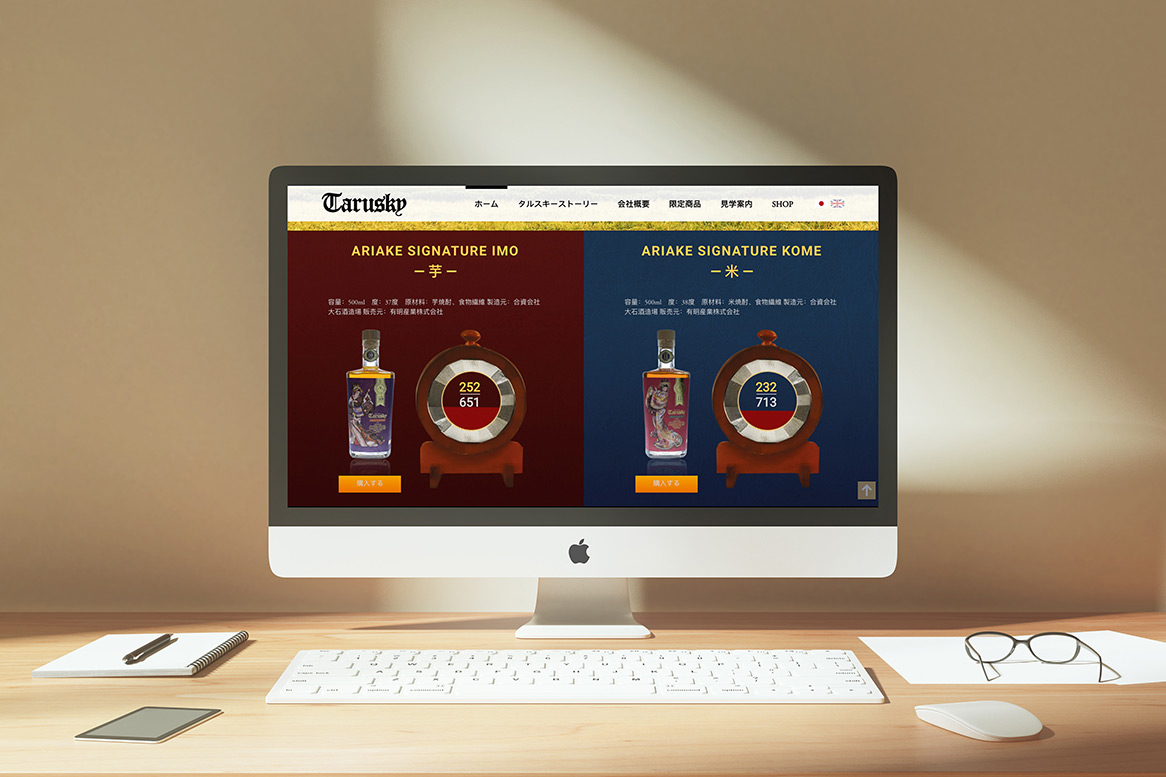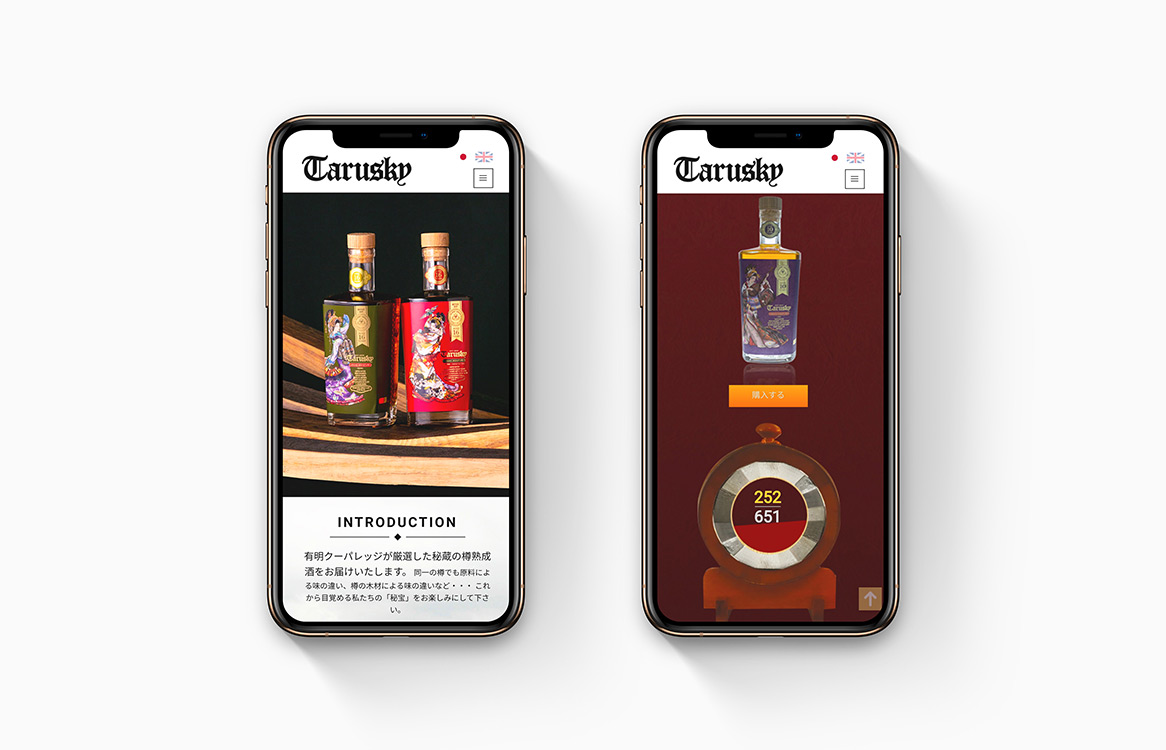 https://tarusky.jp is an e-commerce website designed and programmed by DigiWeb team since 2017. DigiWeb has the opportunity to work directly with customer Ariake Sangyo who is the owner of Tarusky liquor brand. This e-commerce website is available in 2 languages English & Japanese, integrated with Japan's Komoju payment gateway to allow users to pay directly when buying limited editon of Tarusky wines on the website. Ariake Sangyo Company has been very satisfied with DigiWeb's website design service for Tarusky brand, and they have continued to trust and give DigiWeb more opportunities to build Ariake Sangyo's main website http://ariakesangyo.co. jp/
4.2 E-commerce website design to sell bird nest in Việt Nam – YenSongViet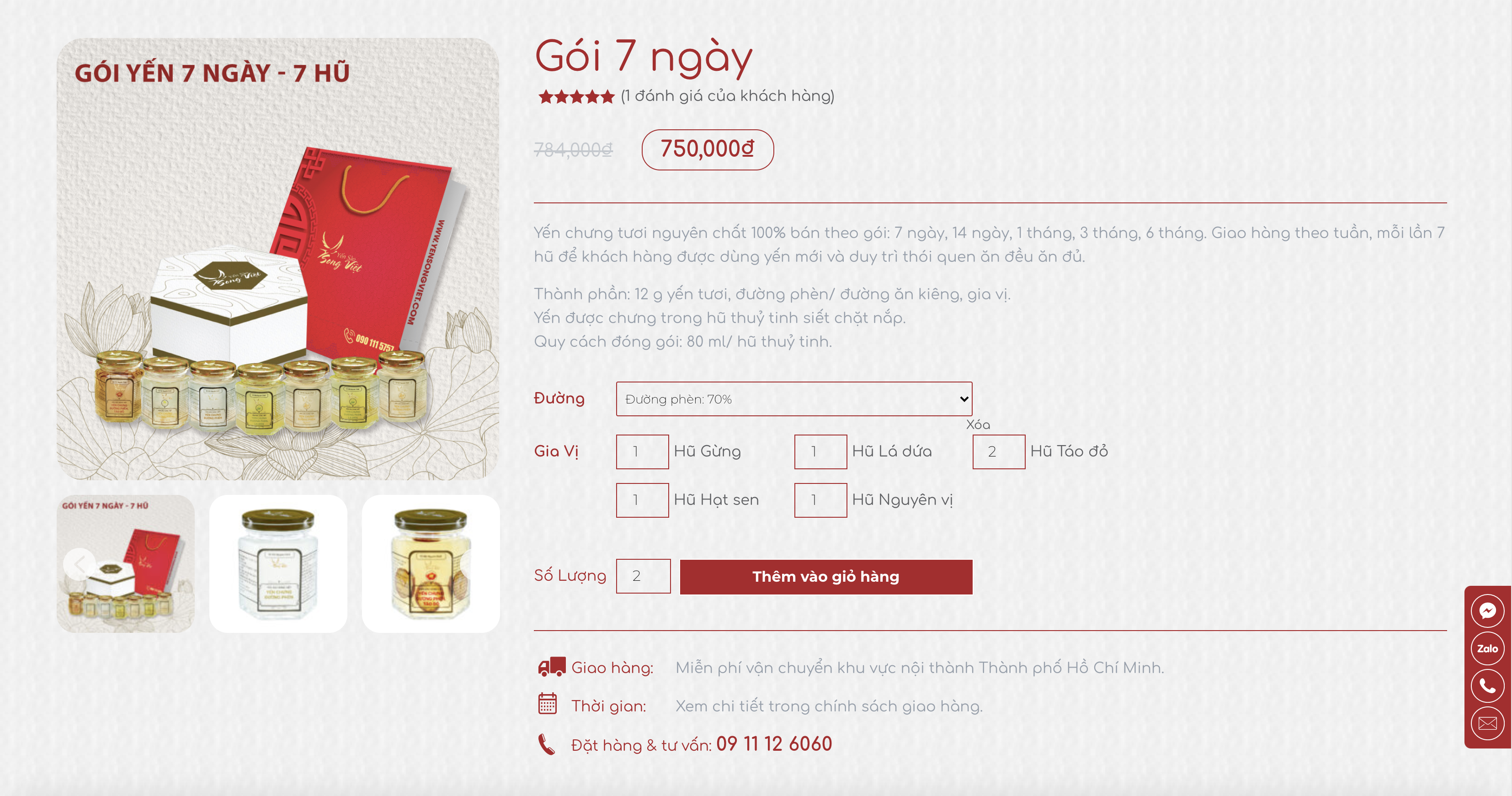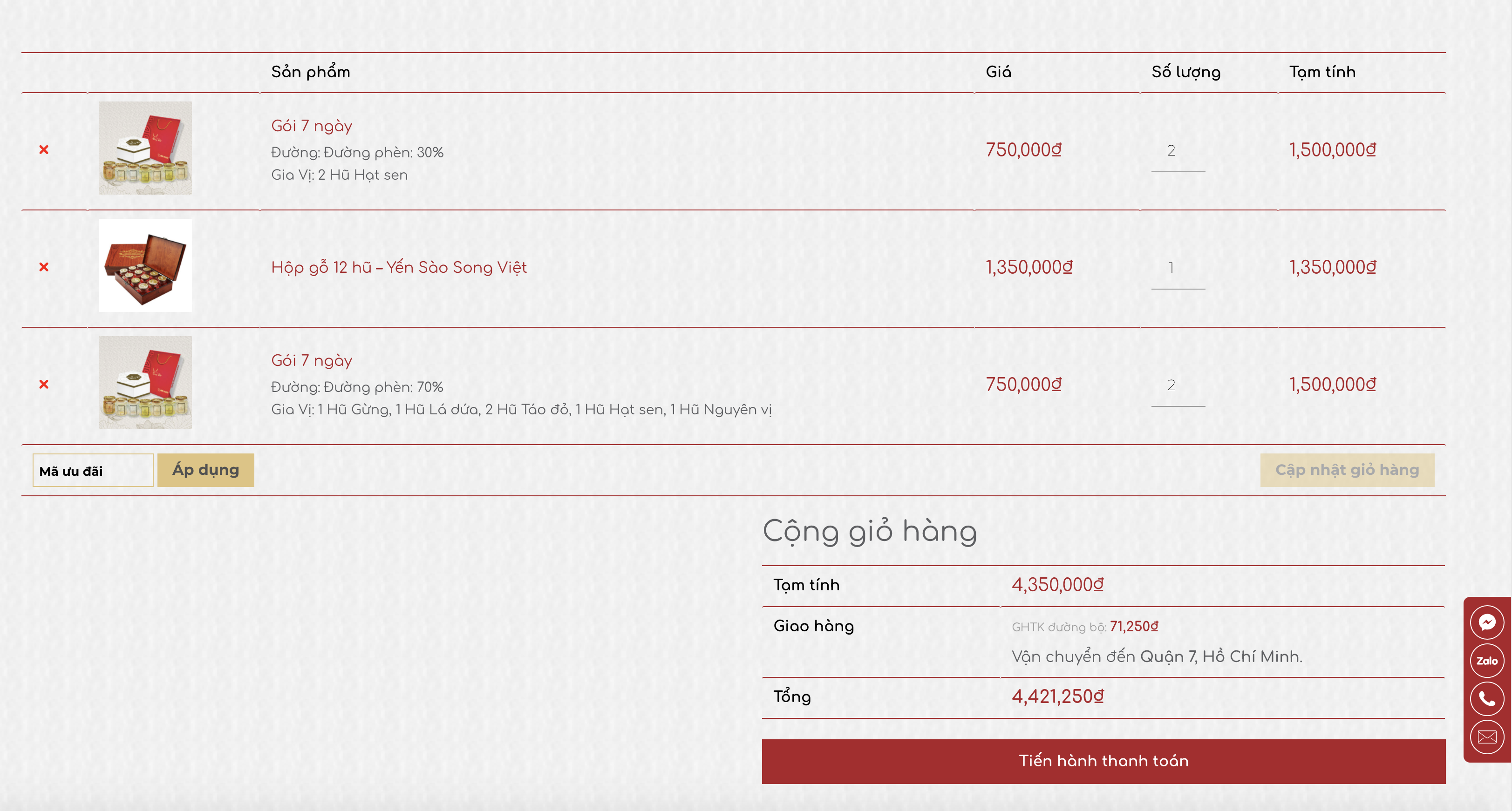 https://yensongviet.com/ is an e-commerce website designed and programmed by DigiWeb team from 2020. DigiWeb has the opportunity to implement this project for Nu Viet Trading Co., Ltd. – Yen Song Viet bird's nest brand. This e-commerce website is professionally programmed with WordPress & Woocommerce, integrated with Vietnam's VNPay payment gateway to allow users to pay directly when buying Bird Nest products on the website. Client is very satisfied with DigiWeb's products and great support after handing over the website, Nu Viet Trading Co., Ltd. has given DigiWeb more opportunities to carry out other website projects. The latest project, Dihafood, currently in the process of handing over is https://dihafood.com, this website integrates with Viettel Pay – Viettel Money payment gateway as described above in part (3)
5. Best E-commerce website – Cost 11.400.000vnđ
For a website to work, there are 3 costs (website, domain, hosting). In which, domain & hosting are 2 fixed annual costs that must be maintained with the 3rd party provider (for example, Domain is bought at P.A Vietnam, Hosting is Mat Bao, Godaddy, Hostgator …).
1. Website costs (like Youtube clips): VND 8,000,000
2. Your domain name: 400,000 VND (1 years registration with 3rd party provider)
3. Website hosting cost: 3,000,000 VND (1 years registration)
Note:
For any website in the world, the cost of domain & hosting must be maintained every year. Therefore, this product DigiWeb chooses to register for 2 consecutive years so that customers do not have to renew by year. If customers can register their own domain & hosting with a 3rd party provider, then you only have to pay VND 8,000,000 for DigiWeb to install the above website for you.
Extra 10% if issuing VAT invoice
6. Working process & payment for Best E-commerce website solution by DigiWeb
Step 1: Contact DigiWeb via (Phone/Zalo/Email) at below to register. Provide sufficient information about the product category you are trading so that DigiWeb can advise more carefully on the website structure.
Step 2: The two parties agree on the costs (may arise if the customer requests more functions).
Step 3: Customers deposit 50% in advance, pay the remaining 50% after handing over the website.
Step 4: DigiWeb installs the website (in about 3-7 days).
Step 5: The two parties agree on the time of the handover / website training.
Step 6: Conduct the training session according to the agreed time. (Time can be adjusted if both parties have unexpected force majeure events).
7. Payment information
NGUYEN DUC THAI
STK: 0441003796246
BANK: Vietcombank (HCMC)
Direct Consulting for Best E-commerce website solution
Phone / Zalo: 0902.604.802 (Mr. Thái)
Email: info@digiweb.com.vn